Welcome to Bearden Behavioral Health
Thank you for your interest in our practice and congratulations on making an initial step in creating some positive change in your life. You're obviously considering treatment and we understand change is often difficult. We want you to feel comfortable here knowing we have skilled, knowledgeable, and compassionate people here to help you.
The clinicians of Bearden Behavioral Health have decades of combined professional experience to assist you with your emotional well being. Our experiences range from inpatient treatment to early early childhood intervention and across the lifespan. We have treated people from all walks of life varying in race, religion, gender, culture, sexual orientation, and backgrounds. The clinicians at our facility truly believe in the capacity of growth and change in every person. We are convinced this journey of healing is yours! Together, we will help you decide the pace of treatment that works best for you. We will help you decide what it is you truly want to obtain through treatment and how to get it.
Bearden Behavioral Health is committed to providing a unique approach to most private practices by offering a comprehensive approach to treatment via psychiatric medication management. For those clients of BBH, psychiatric medication management will be offered on site by our board certified physician. Although medication may not be necessary for every client to overcome anxiety or depression, we are proud to offer this service to those who
need it.
In addition, the clinicians of Bearden Behavioral Health are excited to provide a refreshing approach to private practice by offering a community aspect. Every person is a small part of a larger community. Theoretically, what affects one of us, has the potential to affect many of us. The clinicians of BBH will be offering services to our community through public education, raising awareness, and crisis intervention. We feel it is important for us as clinicians to help not only individuals but help our community by offering them a choice of where to receive these services.
Give us a call today to get started on making the change in your life you seek!
Overcoming an Affair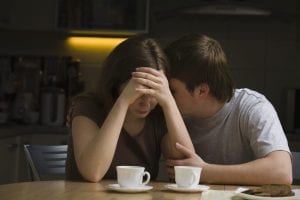 February brings to mind the upcoming celebration of Valentine's Day. For many, Valentine's Day is the season of love. It is the tradition in which our culture celebrates being in love, adoration, or romance. From retail stores to classroom valentines, we are reminded of the significance love plays in our lives and we are encouraged to acknowledge those relationships with some token of affection–be it, chocolates, flowers, or the symbolic stuffed teddy bear.
For some, Valentine's Day can be a painful reminder of a broken relationship or evoke a negative attitude about the notion of being in love. Love has a different meaning for everyone. If one's experience of love has been that of deceit, infidelity, and pain, love can be perceived much differently than the mainstream interpretation. Infidelity is a primary reason why many couples end their relationships. It can be absolutely devastating to the person whose trust was lost. During my many years of practice, I have had client's compare the discovery of an affair as traumatic as a family member's death, and even experience post traumatic stress disorder symptoms. This is especially true for individuals who witnessed the infidelity.
Overcoming infidelity and a significant heart break takes time and often, intervention. Therapy can play a critical role in overcoming the heart ache of an affair in many ways. For couples who wish to rebuild after an affair, the process of therapy can provide a "safe" venue to discuss feelings and specifics of the event. Therapy can also provide insight into how the couple was functioning prior to the affair to identify and resolve the problems that existed which may have led to the affair. More importantly, therapy can provide couples an opportunity to effectively heal by improving communication. Effective communication can lead to identifying each other's needs in the relationship and the evolution of ways to meet those needs through compromise and understanding. Couple's therapy can also assist in techniques to re-establish trust and healing in the relationship. One of the most rewarding aspects of working with couples is that most who are committed to overcome this type of adversity, are a much stronger and better couple because of it. There is undoubtedly hope for relationship success after infidelity where there is love and commitment to change. ——- Dawn Fortich, LCSW
Welcome Our Newest Team Member
Kate Sullivan, MSN, APNP
Regarding areas of expertise, I am an ANCC Board Certified Adult Psychiatric Nurse Practitioner. I provide psychiatric evaluation & medication management services for adults 18 years old & over for those coping with depression, postpartum depression, bipolar disorder, & anxiety disorders including post traumatic stress disorder, generalized anxiety disorder, panic disorder, OCD, & social phobia. I also enjoy working with adult ADHD, end of life care issues & LGBT issues. I have extensive experience with clients in recovery from various forms of trauma. Lastly, I am supervised by Dr. Lane Cook of Sutherland Associates here in Knoxville, Tennessee.
Beyond the basic facts of what I do, I want all patients coming to see me to know that the following priorities matter to me most when it comes to providing quality psychiatric care:
1. Regular collaboration with primary care providers and/or personal therapists
2. Evidence based treatments stemming from the latest research literature
3. Medication plans that are tailored to a patient's specific needs
4. Quality time spent listening to and dialoguing with my patients
5. Opportunities for teaching and questions regarding one's diagnoses and treatment, and lastly…
6. A safe, open, and inclusive environment at every visit.
It is my belief that there is no situation without hope and healing!